Last updated on 1 June 2023.
Finally! The Indian Spider-Man is coming to the big screen! But do you know all about Pavitra Prabhakar? We have a simple guide for you!
Who is the Indian Spider-Man?
Spider-Man is the most popular superhero in the Marvel Universe. But there is an Indian version of our friendly neighborhood superhero.
Pavitra Prabhakar is a superhero character from Marvel Comics, who is also known as the Indian Spider-Man. It first appeared in the 2005's Spider-Man India comic series. His origins and powers are very similar to Peter Parker.
Also, instead of reading this article, I have explained the complete origin of Pavitr Prabhakar in Hindi. Watch the video here:
Pavitra will make his on-screen debut in the upcoming Spider-Man Across the Spider-Verse releasing in India on 01 June. So, this is a good time to find out more about it.
What is the origin of Pavitra Prabhakar?
In the Marvel Comics, Pavitra Prabhakar was also a poor Indian nerd, who lived with his grandparents in Mumbai. He studied in the city's top school where he was regularly teased by his classmates because of his so-called inferior clothing.
When the evil businessman Nalin Oberoi tried to perform the ancient ritual on an amulet, A Yogi arrived to balance the evil with righteousness. The Yogi gave the powers and knowledge of a Spider to Pavitra Prabhakar when he was chased by bullies.
He also told him that this is his destiny and karma. Then, immediately he was transported to the Gateway of India monument and given the new Spider-Man suit. While he was more interested in showing off his new look, he ignored a woman being attacked by some goons.
But then he heard an outcry from his uncle and found out that his uncle tried to save the woman but got killed. As you can see, this is just what happened to Uncle Ben in Peter Parker's story. All this motivated Pavitra to use his great powers for great responsibility.
Pavitra Prabhakar Girlfriend and Villain
Pavitra's parents died when he was early, so his paternal uncle raised him. His uncle's name was Bhim and aunt's name was Maya. His Girlfriend was Meera Jain and the main villain was Nalin Oberoi. All these names are similar to Uncle Ben, Aunt May, Mary Jane and Norman Osborn respectively.
But this is not all. There was also Doctor Octopus in the story, there was an instance where Spidey had to choose between his aunt and his love, and there was an easter egg for Venom as well.
Overall, the writers just tried to give a basic introduction to this international version of this character.
How strong is Pavitr Prabhakar?
Pavitra has the same powers as the main Peter Parker such as making webbings, super strength, and spider-sense. So, his powers are similar to that of Peter Parker.
The webs came from his forearms organically, which is similar to Tobey Maguire's Spider-Man movies. But this was the time when these organic webs were integrated in the main comics timeline due to the popularity of these new films.
Spider-Man India Comics
The Indian Spider-Man was created by Suresh Seetharaman, Sharad Devarajan and Jeevan Kang in 2005. It was a collaboration between Gotham Entertainment Group and Marvel Comics to integrate a western superhero into the Indian Market.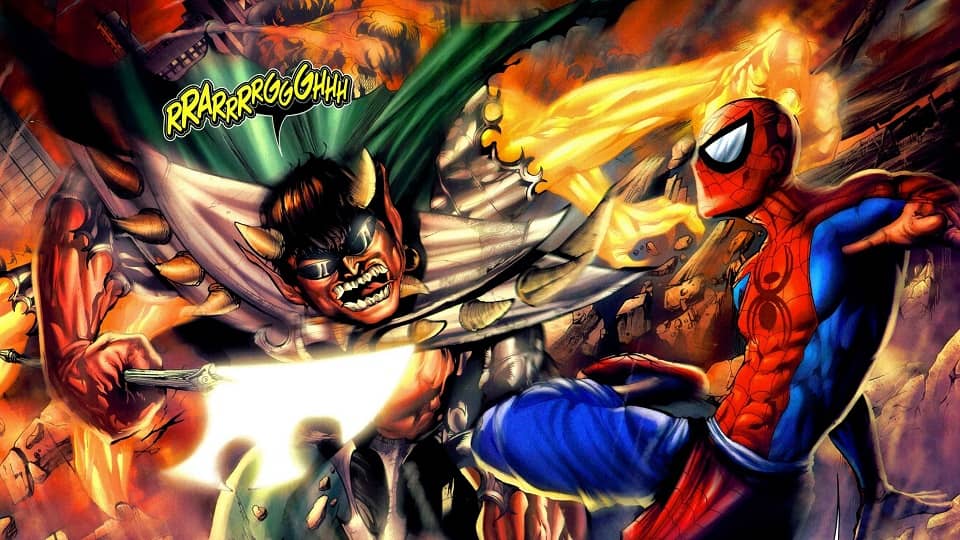 This company was already publishing many Marvel & DC comics in India, but decided to do a "transcreation" of a superhero for local audiences. It was limited to only 4 issues in the first storyline to see a beloved hero being in the Indian landscape.
However, most Marvel fans think that Stan Lee made this superhero, but that is not the case. While there are some reports that legendary filmmaker Satyajit Ray once met with Stan to discuss such a new desi character, the idea was never executed.
Apart from this, he has joined the Spider-Man multiverse groups many other times, once with the fight against the Inheritors and once against the Electroverse. His universe number was 50101.
Is Pavitra in Spider-Verse?
While the Spider-Man India comics didn't receive that much popularity as expected, all the marvel fans knew about him. And when MCU became very popular, and Spider-verse animated movies were a hit, people demanded this desi superhero to be a part of it.
And now it is happening! Across the Spider-verse will introduce Pavitra Prabhakar voiced by Karan Soni. He was now based in a fictional city Mumbattan (like Mumbai).
Before this, he was also a part of the Spider-Man Unlimited video game.
By the way, Indian Marvel Fans also have a World Record that you should know about.
Takeaways
So now you know all about Pavitra Prabhakar, known as Spider-Man India. It's good to see that a hero who looks like us is now moving from still pages to swinging in Mumbai!
And if you don't know who I am? I am Ranish Chauhan a.k.a. Fulmino Fan, and I love Marvel & DC Superheroes and Sci-Fi movies. You can also check my YouTube channel for amazing videos in Hindi.