Last updated on 28 May 2023.
You must be excited that Desi Spidey is going to show up in the upcoming Spider-Man Across the Spider-Verse movie. So, you must know who he actually is!
Indian Spider-Man in Across The Spider-Verse
The sequel to the animated Spider-Verse will give us our first adaption of a multiversal superhero based in India.
There is an Indian Spider-Man to debut in the Across The Spider-Verse film, named as Pavitr Prabhakar. He lives in a city called Mumbattan, which is a hybrid of Mumbai and Manhattan. This character will be based on the Spider-Man India comics published in 2005.
The official universe number of this Indian Spider-Man is 50101 in the film, which is also the same as in the comics. One major change was just his city, which is specially created like a reverse town that goes down, instead of going up.
Here is the official promo from Sony Pictures India:
We can look at his bracelets that might be his web-shooters. While the comics version has organic webs, since the comics came out at the time of Tobey Maguire's movies, this will definitely change one important aspect of the character.
His aunt's name is Maya, similar to Aunt May for Peter Parker. It also looks like Miles and Gwen will once visit his universe to get some help or when they were running aways from Miguel O'Hara. Hope he gets a good amount of screentime.
Talking about the comics, Pavitr Prabhakar made his appearance in the Spider-Man India limited comic issue. This was a partnership between Gotham Entertainment and Marvel Comics to create a local version of this beloved superhero.
In this mini story, he fought a local corrupt businessman Nalin Oberoi to save his village. However, he has then made a comeback many times when Spider-forces joined hands to defeat Inheritors and Electroverse.
Who is Pavitr Prabhakar Voice Actor?
Many fans are confused about who is dubbing for the Pavitr in Spider-Verse after the many announcements made by Sony Pictures India. Let's clear this out.
Karan Soni is the official voice actor for Pavitr Prabhakar in Spider-Man Across The Spider-Verse, and Shubman Gill is the dubbing artist for him in Hindi and Punjabi languages.
Karan is the same actor who plays Dopinder in Deadpool. Shubman Gill is an Indian Cricketer who is making his launch in the entertainment industry with it.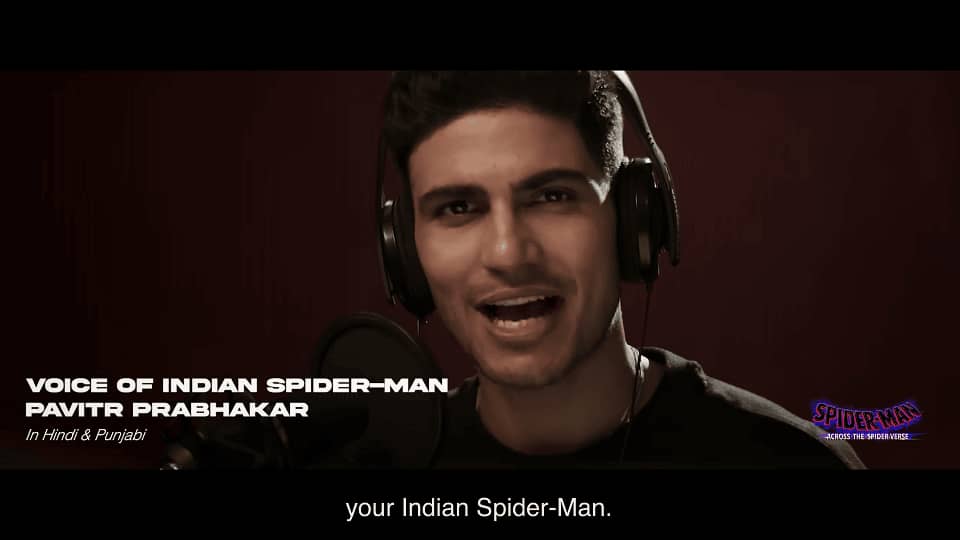 Remember that this movie is going to be available in 10 languages. For the other 7 languages, they will have different voice actors. Know all the Hindi dubbing artists of Across The Spider-Verse here.
This is maybe the first time a Cricket Player has joined the "Indian Celebrities dubbing for Hollywood roles" club. While, this type of arrangement was not usually loved by Indian Marvel fans, it has got a positive reception from them this time.
Before that, fans have critized when Ranveer Singh dubbed for Deadpool in Hindi and Varun Dhawan for lending his voice for Steve Rogers in Captain America Civil War. Still for this case, this is not the main character, so it will not be a big factor as such.
Except when it comes to footfalls in cinemas. Let's see if it increase the box-office potential here. Spider-Man Across The Spider-Verse to release in India one day early on 1 June.
Takeaways
So now you know all about the Indian Spider-Man who is going to appear in Spider-Verse animated films. All looks good but let's see how he is represented!
And if you don't know who I am? I am Ranish Chauhan a.k.a. Fulmino Fan, and I love Marvel & DC Superheroes and Sci-Fi movies. You can also check my YouTube channel for amazing videos in Hindi.