Last updated on 28 May 2023.
Time to meet many more Spideys! We have all the news about Spider-Man Across The Spider-Verse release in India!
Spider-Man Across The Spider-Verse release in India
Miles Morales will return to meet Gwen Stacy and Peter Parker to become a part of The Multiverse of Spider-Men.
The official release date of Spider-Man Across The Spider-Verse in India is 1 June 2023. It will premiere one day early, in the country, on Thursday, before the USA. It is the sequel to 2018's Spider-Man Into The Spider-Verse film.
The early social media reactions have also come out and they are calling it a "masterpiece", with many Multiverse easter eggs for Spider-Man fans and an emotional story as well. Watch the early reviews here:
This time Miles will fight Spider-Man 2099, who was teased in the previous post-credits scene. The tickets opened on 28 May but there was an interesting twist this time. What? Let's see!
Will it be in 3D and IMAX?
Spider-Man Across The Spider-Verse is not converted in 3D. This is rare for such a big Hollywood blockbuster because 3D is a very popular format among Indians. Even when with IMAX and 4DX, the screening will only be in the 2D format.
It is also interesting that the prequel Into The Spider-Verse got a 3D release, but due to the animation style, the effect was quite minimal. The unique visuals of the film are also great to be experienced without the glasses to appreciate the hard work of animated artists.
Now we will move to the next premium theater type, IMAX!
Spider-Man Across The Spider-Verse will be digitally remastered in the IMAX format, but there will be no expanded aspect ratio. Also like we mentioned before, only IMAX 2D this time, which is also the best format to enjoy this film.
There is the ScreenX option as well, but it is only available in limited cities.
What's Special for Indians?
This Spider-Verse sequel is already coming with many surprises for the Indian Marvel fans.
First, Across The Spider-Verse is getting a PAN-India release in 10 local languages. Along with English, there is Hindi, Tamil, Telugu, Kannada, Malayalam, Gujarati, Marathi, Bengali, and Punjabi. It will be a big gamble but we all know that there are a lot of Spidey fans.
Second, one of the characters to debut in it is our Indian Spider-Man. Pavitr Prabhakar in Marvel Comics first appeared in 2005. It had a limited origin story in it but then made a comeback in some more issues of Spider-Man to join hands with his alternate avatars.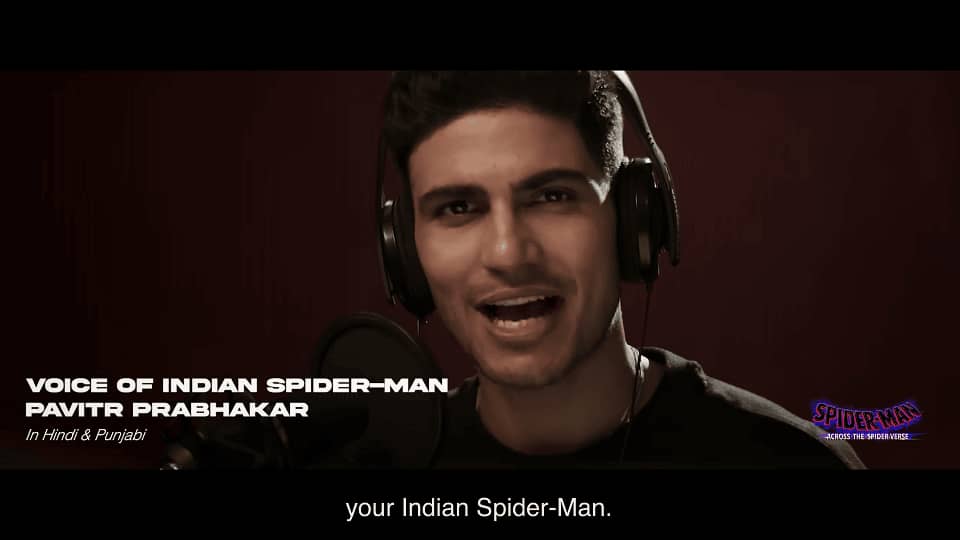 And last but not the least, The Indian Spider-Man in Across The Spider-Verse will be voiced by Indian cricketer Shubman Gill. He will be the Hindi & Punjabi Dubbing Artist for this desi superhero. This is also the reason why there are more Hindi shows this time.
By the way, the main English voice is by Karan Soni, who plays Dopinder in Deadpool flicks.
All and all, we expect Spider-Verse 2 to have a big box-office collection in India. Will it enter the ₹100 Crores club here? We will find out soon.
About The Movie
As we all know, Into The Spider-Verse was an unexpected hit. In the time where we have already seen 3 Live-Action Spider-Man movies, an animated film was just overlooked by many. But now it is a fan-favourite with winning the Best Animated Film at Oscars.
So there was no doubt that it would get a sequel. Not just one, There is another Beyond The Spider-Verse coming out in 2024. But first we will discuss some details for Across The Spider-Verse.
A big change is that the directors have changed. Joaquim Dos, Santos Kemp Powers, and Justin K. Thompson is helming the director chair but previous duo Phil Lord and Christopher Miller are executive producers this time.
But the main voice cast is also back: Shameik Moore as Miles Morales, Hailee Steinfeld as Gwen Stacy, Jake Johnson as Peter Parker, Issa Rae as Spider-Woman and Oscar Isaac as the main villain Miguel O'Hara. Let's see if it will have the same magic as the first one.
Finally, here is the official synopsis of the film (via sonypictures.com): "After reuniting with Gwen Stacy, Brooklyn's full-time, friendly neighborhood Spider-Man is catapulted across the Multiverse, where he encounters the Spider Society, a team of Spider-People charged with protecting the Multiverse's very existence. But when the heroes clash on how to handle a new threat, Miles finds himself pitted against the other Spiders and must set out on his own to save those he loves most. Anyone can wear the mask – it's how you wear it that makes you a hero."
Takeaways
So now you know Spider-Man Across The Spider-Verse released in India in Hindi. It has the potential to be a big hit definitely!
And if you don't know who I am? I am Ranish Chauhan a.k.a. Fulmino Fan, and I love Marvel & DC Superheroes and Sci-Fi movies. You can also check my YouTube channel for amazing videos in Hindi.