Last updated on 13 March 2022.
Many Indian movies were also released in IMAX. Check the full list here!
Full List of Indian Movies in IMAX
IMAX is a premium format for movies. Many big Hollywood and Chinese films are now usually released in IMAX, but Indian cinema is catching up now.
Note that while most of the below Indian movies are released in IMAX, they might not be shot with their cameras, so they will not have expanded aspect ratio footage. These Indian movies are mostly digitally remastered using the company's DMR technology.
Check the full list of Indian movies in IMAX:
01) Dhoom 3 (2013)
Dhoom 3 was the first Indian movie to be released in IMAX. The movie was digitally remastered using DMR technology, like many Hollywood films used to do at that time. This technology increases the video and audio quality of the movie when you watch it in those theatres.
Dhoom 3 stars Aamir Khan, Katrina Kaif and Abhishek Bachchan in main roles.
At that time, there were only a handful of IMAX theatres in India, and ticket prices for Dhoom 3 went up to ₹900 in Mumbai. This even encouraged many Indian multiplex owners like PVR to bring more such theatres to the country.
Yash Raj Films also had plans to release the 'PAANI' movie in this format, but the movie is currently in production halt.
02) Bang Bang! (2014)
Hrithik Roshan's 2014 superhit movie 'Bang Bang!' was also released in this format. And just like Dhoom 3, the movie was enhanced with DMR technology.
This film was a remake of Tom Cruise's Knight and Day (2010).
03) Baahubali: The Conclusion (2017)
After the widely successful Baahubali (2015), the sequel was going for a bigger release worldwide. 'Baahubali: The Conclusion' was the first Telugu movie to be released in this unique movie-going experience.
Baahubali 2 was also the first time an Indian movie has used a 1.90:1 aspect ratio on IMAX screens. It means that you could have got 26% more footage in those theatres for the whole movie. Marvel and DC movies are known to use this ratio for most of their new films.
Prabhas and Anushka Shetty's war epic was a major hit all over the globe. It was also released in many international locations with English subtitles, generating $2.3 Million only from IMAX theatres in India, USA and Australia.
04) Padmaavat (2018)
Sanjay Leela Bhansali's Padmaavat became the first Indian movie to have an IMAX 3D release. All the above movies were only released in the 2D format including Baahubali 2. It utilized the DMR technology for these screenings.
The film has Ranveer Singh, Deepika Padukone and Shahid Kapoor in lead roles.
05) Gold (2018)
2018's sports drama was another Indian IMAX release of 2018. Starring Akshay Kumar and Mouni Roy, it was also digitally enhanced in post-production.
06) Thugs of Hindostan (2018)
This highly anticipated Bollywood movie starring Aamir Khan, Amitabh Bachchan and Katrina Kaif is another entry in this list. However, the movie had a lacklustre box-office collection due to poor reviews.
There were also rumours that Rajnikanth's 2.0 movie will be released in IMAX. However, that didn't happen. This is because the studio was unable to provide the movie to the company on time to digitally remaster it.
07) Saaho (2019)
Prabhas and Shraddha Kapoor's Saaho was also released in this premium format with the entire film presented in the 1.90:1 aspect ratio available in IMAX theatres. It was distributed by Yash Raj and AA Films.
08) RRR (2022)
The RRR movie is the first Indian movie ever to be shot with IMAX cameras. It was shot with Arri Alexa LF cameras which are certified by IMAX.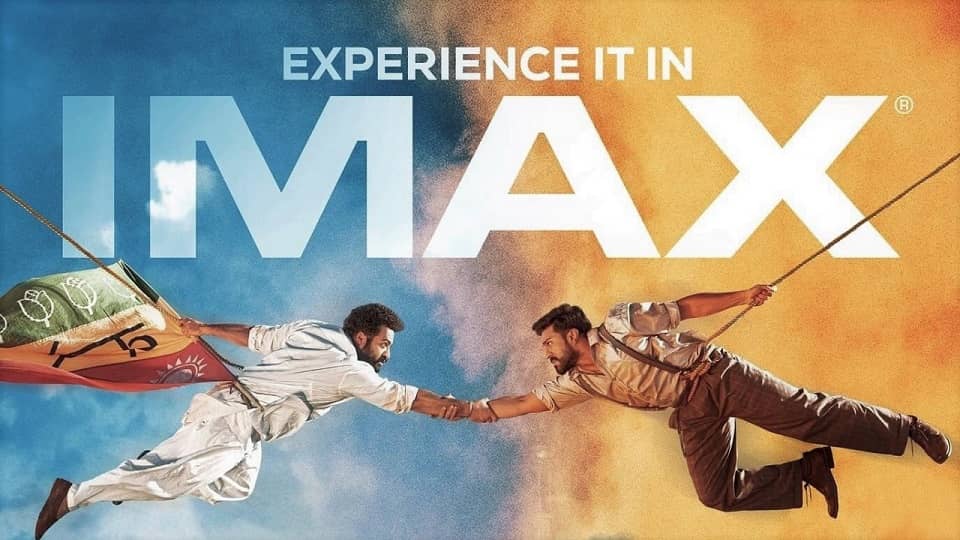 This is the same camera used in Marvel's Shang-Chi and the Legend of the Ten Rings (2021), Dune (2021) and Thor: Love and Thunder (2022).
Note: Please don't confuse these with 70mm film camera which was used by selected directors like Christopher Nolan.
Enjoy RRR in IMAX 3D or 2D which is available for Hindi and Telugu versions.
09) K.G.F. Chapter 02 (2022)
'KGF Chapter 02' becomes the first movie from the Kannada industry to get an IMAX release. The movie is converted into this using their DMR technology. It was released in India on 14 April, in Hindi, Tamil and Telugu also in 2D.
Takeaways
So now you know about all Indian movies that were released in IMAX. Let's see which future blockbusters will be screened in this premium format!
And if you don't know who I am? I am Ranish Chauhan a.k.a. Fulmino Fan, and I love Marvel & DC Superheroes and Sci-Fi movies. You can also check my YouTube channel for amazing videos in Hindi.