Last updated on 17 August 2023.
Can Blue Beetle change the fate of the DC Universe? Find out all about this new film Is it shot with IMAX?
Blue Beetle Release Date in India
Do you know that It was initially developed as a Direct-to-Stream film for HBO MAX? But now it is coming to theatres.
DC's Blue Beetle will release in India on 18 August 2023. It will be available in English, Hindi, Tamil and Telugu languages. The runtime is 2 hours and 7 minutes.
Watch the Official Hindi Trailer here:
The excitement is very low for this one as not many fans are excited to watch it in theatres. Previous DC films like The Flash, Shazam 2, and Black Adam have disappointing results at the box office as well, even if they got good reviews.
Same way, Blue Beetle is also getting strong critics' reactions praising the fun tone, family dynamics, and comedy. The lead actor Xolo Maridueña is also a semi-popular name because of his Netflix series Cobra Kai. Still, it looks like it will not fill many seats.
Warner Bros India is also organizing a special screening in Delhi and Mumbai on 17 August.
DC's Blue Beetle in IMAX?
Blue Beetle is filmed with IMAX-certified Arri Alexa LF cameras. It will have 70 minutes of footage in the expanded 1.90:1 aspect ratio.
The director said this is done to make it a more immersive experience for the audience.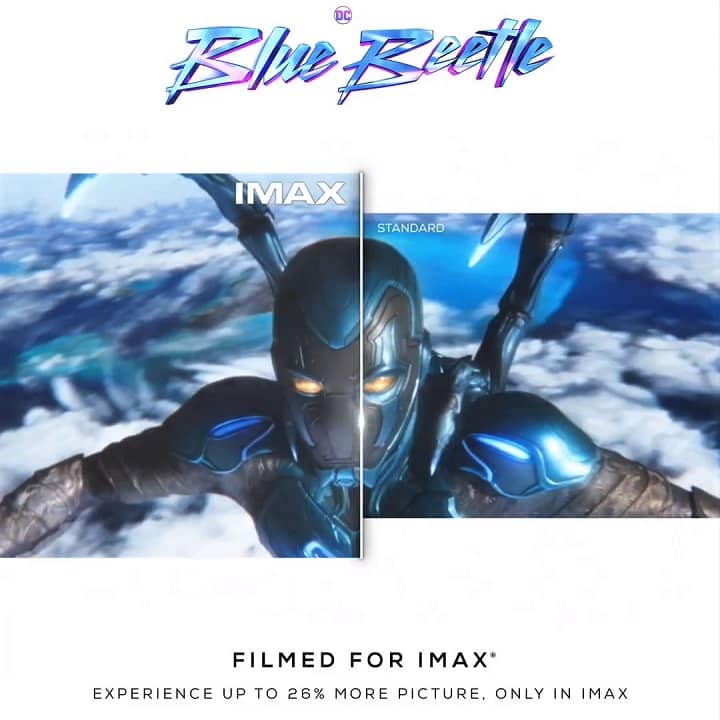 You can check all DC Universe films released in IMAX here.
Blue Beetle will not be available in 3D format as it not getting post-converted for 3D by the studio.
Streaming OTT Updates in India
Since it is distributed by Warner Bros Pictures, it will eventually land on their HBO MAX service. But we don't have it in India as of now, so what about us? Let us make a guess.
Blue Beetle will be streaming on Amazon Prime Video in India. Many previous DC films are also on Prime such as Black Adam. The digital premiere date is yet to be announced.
However, JioCinema has made a deal with Warner Bros Discovery, and they also got rights to their collection. Maybe it can be the OTT platform for the future.
About The Movie
Initially, Blue Beetle was going to be a mid-budget film for home release. However, with the changes in the DC universe and the development of DC Studios, it is now getting a theatrical release. This is said to be because of the great quality.
The co-head of DC Studios James Gunn has also told the fans that Blue Beetle will be the first DCU character, while the new Superman Legacy film will be the first DCU film. It sounds confusing but now, it all depends on how well this movie performs.
One interesting that happened is that the beloved director Zack Snyder is also going to watch it.
In the end, here is the official synopsis of the film (warnerbros.com): "Recent college grad Jaime Reyes returns home full of aspirations for his future, only to find that home is not quite as he left it. As he searches to find his purpose in the world, fate intervenes when Jaime unexpectedly finds himself in possession of an ancient relic of alien biotechnology: the Scarab. When the Scarab suddenly chooses Jaime to be its symbiotic host, he is bestowed with an incredible suit of armor capable of extraordinary and unpredictable powers, forever changing his destiny as he becomes the Super Hero BLUE BEETLE."
Takeaways
So now you know all about DC's upcoming film Blue Beetle release with its latest 3D and Streaming updates.
And if you don't know who I am? I am Ranish Chauhan a.k.a. Fulmino Fan, and I love Marvel & DC Superheroes and Sci-Fi movies. You can also check my YouTube channel for amazing videos in Hindi.