Last updated on 29 September 2022.
Going to watch PS1? Get to know about all the characters in the movie Ponniyin Selvan here:
Top Characters from Ponniyin Selvan
This is one of the biggest stories in Indian Literature published in the 1950s by Kalki Krishnamurthy.
Ponniyin Selvan is getting released in India on 30 September 2022. It will be available in Tamil, Telugu, Malayalam, Kannada, and Hindi.
And you know what, there are more than 50 characters in this storyline. So, it's good to know and get an idea about its cast and its roles.
Let's first look at the character chart for Ponniyin Selvan: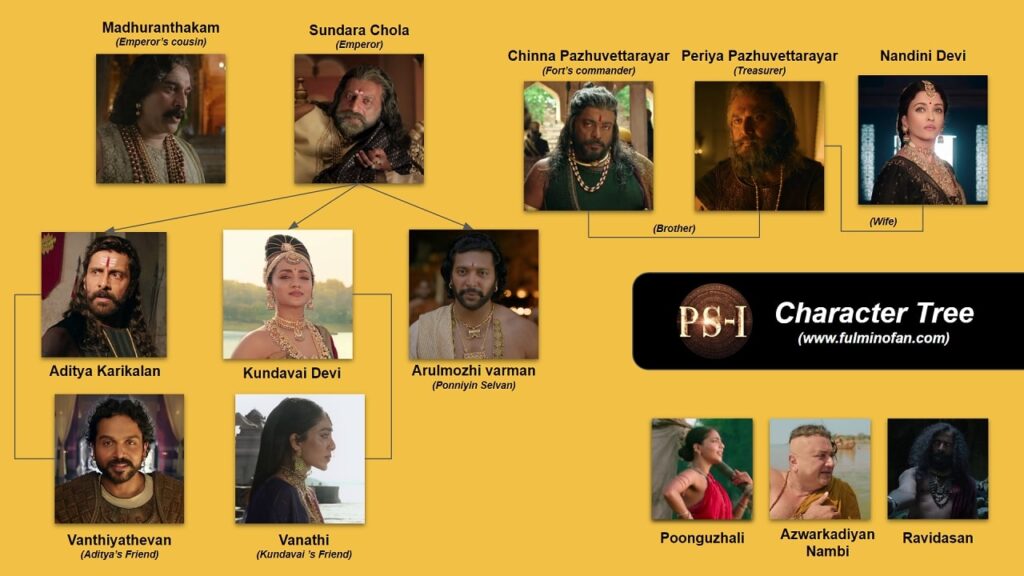 You can watch this video to understand all of them:
We have shortlisted the most important characters along with the actor name from the movie:
01) Sundara Chola (Prakash Raj)
Sundara Chola, also known as Parantaka II, is the emperor of the Chola Kingdom. He got this name because of his facial beauty. However, in this story, he is very old and unhealthy. He is residing in the Thanjavur fort.
02) Aditya Karikalan (Vikram)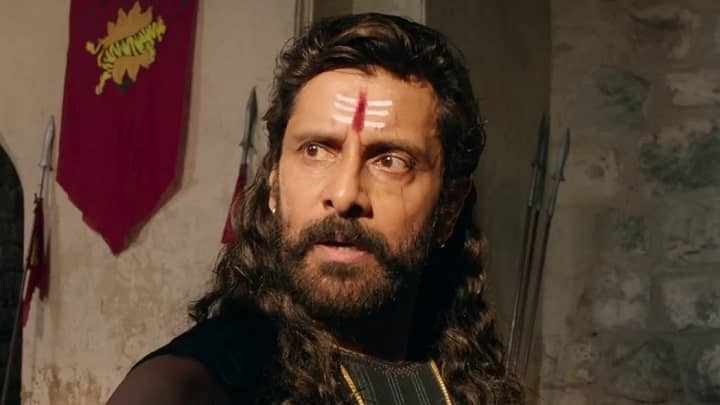 Aditya is the first son of Sundara Chola and the crown prince of the empire. Karikalan is fighting in the north side to expand their reign. But he is known to act very angrily and without control in some situations.
MINOR SPOILER: While he is a fierce warrior, he also has a sad connection with Aishwariya's character Nandini.
03) Kundavai Devi (Trisha)
Kundavai Devi is the second child and loved princess of the royal family. She is very intelligent and cares about his father and brothers. Kundavai lives in Pazhaiaarai with her friends at the beginning of the movie.
04) Arulmozhi varman (Jayam Ravi)
Arulmozhi varman is our titular character and the youngest of the Chola siblings. He got the name of Ponnyin Selvan (Son of Kaveri) because he was once saved from drowning in the Kaveri river in his childhood. At the start of the story, he is fighting a battle at Ilangai (Sri Lanka).
SPOILER: He will eventually become the king and will be known in history as Raja Raja Cholan.
05) Vanthiyathevan (Karthi)
Vallavaraiyan Vanthiyathevan is the main character of Ponniyin Selvan novel. He belongs to an old Vanar Clan and is very brave and witty. Vanthiyathevan was Aditya's best friend, who sent him to the capital to send messages to his father and sister.
SPOILER: He will eventually find out about the big mystery plot and will fall in love with Kundavai Devi.
06) Vanathi (Sobhita Dhulipala)
Vanathi is a dear friend of Kundavai Devi and lives with her as well. She is an orphan, so Kundavai looks after her. She wants Vanathi to get married to her younger brother Arulmozhi varman.
07) Chinna Pazhuvettarayar (R. Parthiban)
Chinna is the commander of Thanjavur's Fort. Usually, he doesn't let many people meet the king and that's why the people hate him. Also, he is known to be one of the two most key characters who are the closest to the king, along with his brother Periya.
08) Periya Pazhuvettarayar (R. Sarathkumar)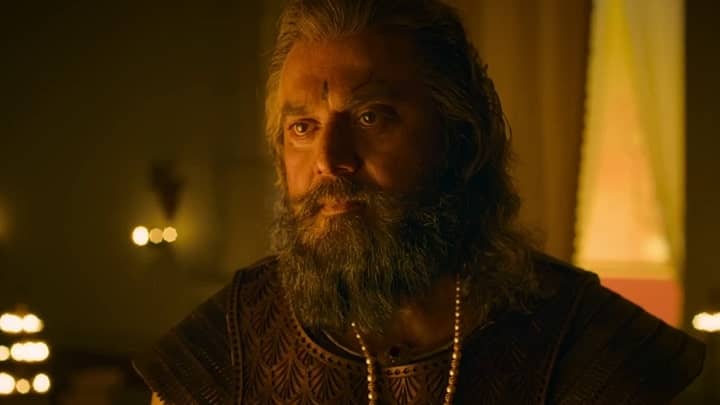 Periya Pazhuvettarayar is the lord treasurer of the kingdom. He is old in the story but once he was a strong warrior and has 64 scars on his body. However, people are surprised by his life since he has married a younger woman Nandini at this age.
SPOILER: He is planning (with Nandini) to crown Sundara's cousin Madhuranthakam after the king dies.
09) Nandini Devi (Aishwariya Rai Bachchan)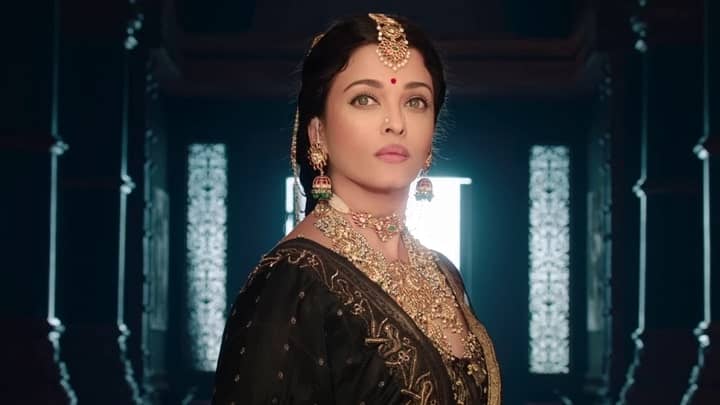 Nandini is the main villain of the Ponniyin Selvan story. Married to Periya right now, she is planning to destroy the Cholas. She is also known to be the most beautiful woman in the empire. Her history was kept a mystery at the beginning of the storyline.
10) Poonguzhali (Aishwarya Lekshmi)
Also called Samudrakumari (Princess of the Ocean), Poonguzhali is a normal boatwoman in Kodikarai. She is very intelligent, and courageous but also a bit stubborn. She plays a key role in the novel to transit the characters from one place to another on the show.
11) Azwarkadiyan Nambi (Jayaram)
Nambi is a Vaishnava devotee who discovers many mysteries running in the Chola kingdom. He also becomes friends (kind of) with Vanthiyathevan and both will accompany each other on many adventures.
SPOILER: He is the foster brother of Nandini Devi and also a secret spy.
12) Ravidasan (Kishore)
Ravidasan is the main conspirator against Sundara Chola and wants to assassinate him at any cost. He is planning everything with Nandini Devi. Also, he is a Mandi Ravadi (magician in Tamil).
13) Madhuranthakam (Rahman)
Madhuranthakam is the cousin of Sundara Chola (son of the brother of Sundara's father). He has been a big Shaivite his whole life. But recently, he has changed and wants to be throned as the next Emperor.
Takeaways
So now you know about the most important characters of Ponniyin Selvan movie in the chart, along with the family tree of Cholas for PS1.
And if you don't know who I am? I am Ranish Chauhan a.k.a. Fulmino Fan, and I love Marvel & DC Superheroes and Sci-Fi movies. You can also check my YouTube channel for amazing videos in Hindi.