Last Updated on 19 March 2023.
Fun MCU flicks are more successful at the box office than the accolades. But how many Marvel movies got big wins at the Academy Awards?
How many Oscars has Marvel Won?
From Spider-Man 2 to Wakanda Forever, some Marvel films were loved by the jury for their unique style.
Here is a simple summary to understand their performance at the biggest Awards:
| | |
| --- | --- |
| Total Nominations | 35 |
| Marvel Oscar Wins | 6 |
| First Win | Spider-Man 2 (2004) for Visual Effects |
| Last Win | Wakanda Forever (2022) for Costume Design |
| Most Nominations | Black Panther (2018) with 7 Nominations |
Let's now look at each of the Marvel Oscar wins one by one:
01) Spider-Man 2 for Visual Effects
Spider-Man 2 was the first ever Marvel movie to win an Oscar. It was acknowledged in the Visual Effects category by the Academy. Supervisors John Dykstra, Scott Stokdyk, John Frazier, and Anthony LaMolinara received it on stage.
While the first Sam Raimi and Tobey Maguire's Spidey film was also nominated, it took them a sequel to get recognized. A big reason was how they designed Doctor Octopus's look and the train fight scene.
Fun Fact: The first DC movie to win an Oscar was 1978's Superman, which was too for the VFX.
02) Big Hero 6 for Animated Feature
While technically it was not a part of the main Marvel Comics continuity, these were published under their name.
Big Hero 6 came out in 2014 and won an Oscar for the best-animated feature. It was also a big box-office success and become popular among many fans. Not that the movie was only based on the actual comic.
03) Spider-Man Into The Spider-Verse for Animated Feature
Spider-Man Into The Spider-verse received the Best Animated Feature film at the Academy Award. It was directed by Bob Persichetti, Peter Ramsey, and Rodney Rothman. The strong storyline and unique VFX style were the main reasons for its win.
04) Black Panther for Production Design
This 2018 MCU movie was a major success for Marvel Studios.
Black Panther was nominated in 7 categories, even for the best picture, and one of its big wins was in the Production Hannah Beachler overlooked the culturally beautiful productions and Jay Hart focused on artistic sets.
05) Black Panther for Original Score
Black Panther won the Best Original Score by Ludwig Goransson. He researched many parts of Africa to get the best soundtrack for our African superhero. The way he used drums, flute, tambin, and the voice of Baaba Maal was really exceptional.
06) Black Panther for Costume Design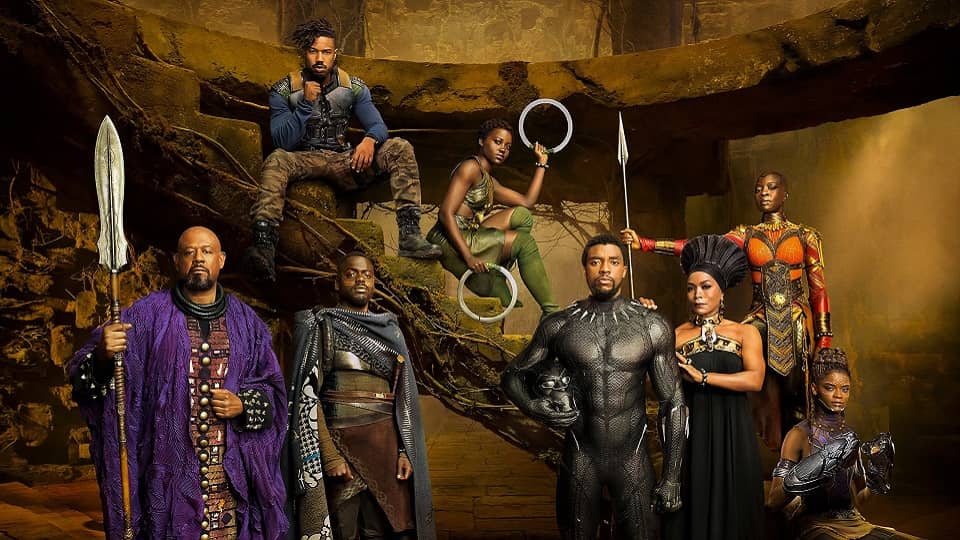 When we got our first look at all the costumes from the movie, we knew that it was going to be different.
Ruth E Carter won the Oscars in Costume Design for Black Panther. She was also the first black woman to set an Oscar in this department. Ruth was responsible for all the amazing attire for the Marvel characters.
Whether it is King T'challa, Princess Shuri, Queen Ramonda, Villain Killmonger, Dora Milaje, and each tribe of Wakanda, we can clearly see that she deserved it.
07) Black Panther Wakanda Forever for Costume Design
Ruth Carter won another Oscar for working on costumes of Black Panther Wakanda Forever. The amazing attire she re-created for Wakandan people as well as for the new character of Talokan including Namor makes it well-deserving.
All Oscar Nominations for Marvel Movies
Here is the list of all DC Movies and their respective nominations:
Spider-Man (2002): Sound, Visual Effects
Spider-Man 2 (2004): Sound Editing, Sound Mixing, Visual Effects
Iron Man (2008): Sound Editing, Visual Effects
Iron Man 2 (2010): Visual Effects
The Avengers (2012): Visual Effects
Iron Man 3 (2013): Visual Effects
Big Hero 6 (2014): Visual Effects
Captain America The Winter Soldier (2014): Visual Effects
X-Men Days of Future Past (2014): Visual Effects
Guardians of The Galaxy (2014): Makeup & Hairstyling, Visual Effects
Doctor Strange (2016): Visual Effects
Logan (2017): Writing in Adapted Screenplay
Guardians of The Galaxy Vol 2 (2017): Visual Effects
Black Panther (2018): Best Picture, Costume Design, Original Score, Original Song, Production Design, Sound Mixing, Sound Editing
Avengers Infinity War (2018): Visual Effects
Spider-Man Into The Spider-Verse (2018): Animated Feature Film
Avengers Endgame (2019): Visual Effects
Shang-Chi (2021): Visual Effects
Spider-Man No Way Home (2021): Visual Effects
Black Panther Wakanda Forever (2022): Actress in Supporting Role, Visual Effects, Makeup & Hairstyling, Original Song, Costume Design
Did Avengers ever win the Oscars?
No Avengers movie has ever won an Oscar. While Avengers, Infinity War, and Endgame were selected for the VFX category, they didn't get the highest votes.
Have any MCU movies won?
Many MCU films were nominated but Black Panther was the only movie to sweep 3 Oscars for Score, Costume, and Production. It was also nominated for the sacred Best Picture category.
Has any Marvel actor won at Academy?
Marvel has cast many Oscar-winning actors but no Marvel film has won in the acting category. Only recently Angela Bassett was nominated for best supporting actress for Wakanda Forever.
Takeaways
So, now you know about all the nominations and awards won by Marvel films at the prestigious Oscars. While their fun tone was not loved by the academy this much till now, we are watching how they are changing tone in recent times.
And if you don't know who I am? I am Ranish Chauhan a.k.a. Fulmino Fan, and I love Marvel & DC Superheroes and Sci-Fi movies. You can also check my YouTube channel for amazing videos in Hindi.